This post was contributed by Jenna Hardie, Content Marketing Manager at ZAG Technical Services— a valued partner of Latitude 36 Foods.
The Latitude 36 Foods business is a critical piece of the fresh produce supply chain. The company is a pioneer in salad condiment kits for the chopped salad kit category, and also provides private label snacks and portioned condiments to leading QSR's and Foodservice organizations.
To meet the demand for its products, Latitude 36 Foods relies heavily on technology to get their products where they need to go. The company looks to adopt innovations that help them streamline operations and increase revenue. As more technology is added, the complexity in managing these systems increases. More education may be needed, as well as additional oversight to ensure the systems are operating as expected to meet demand.
As such, technology strategy plays a big role in how Latitude 36 Foods operates. Here are five ways that technology helps businesses like Latitude 36 Foods innovate and achieve a competitive advantage: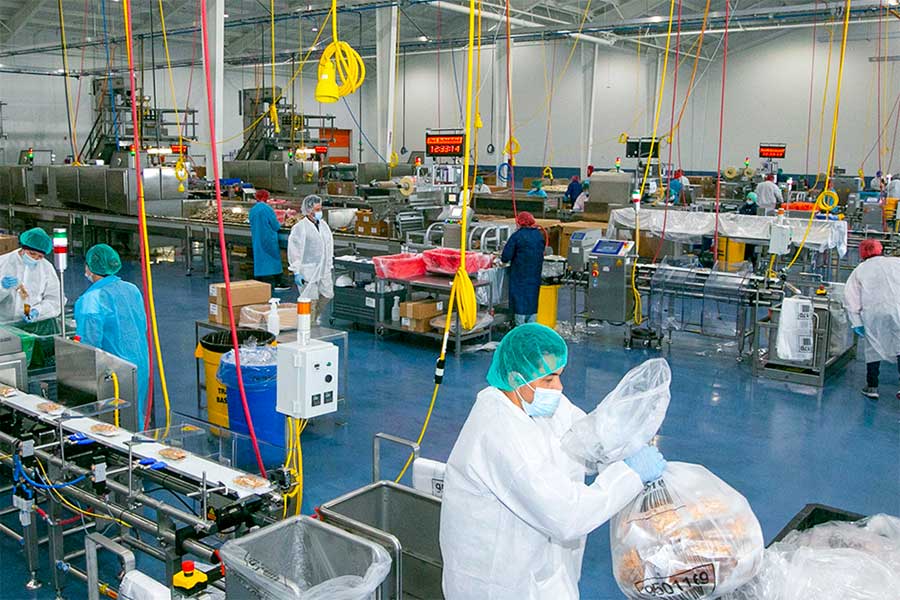 Provides a framework for employees. What we've learned from seeing an increase in cybersecurity breaches and data leaks is that networks are susceptible to attack – and while protection starts with the implementation of firewalls and intrusion detection tools, employee training goes a long way in strengthening a company's security posture. Outlining a technology strategy and framework for employees around the need for stronger passwords, multi-factor authentication (MFA), and email best practices training can ensure employees are a part of the solution when it comes to security.
Identifies potential risks. So many times, companies are set up to react to incidents instead of being able to predict where problems might arise. Technology can be leveraged to help identify risk by using data to model maintenance windows, monitor health and safety trends/issues, or provide insight into processing times and issues. The means threats to productivity can be addressed proactively, leading to better outcomes. Taking a proactive approach to cybersecurity threats should be included in every business plan, requiring companies to be more vigilant in their security protocols and defenses.
Examines every piece of the network. There are so many devices and machines that are part of the vast production seen at a company like Latitude 36 Foods. Everything from the iPads used to track production to the video technology that keeps employees safe is linked to the network and provides incoming data critical to operations. But these Internet of Things (IoT) devices can also open up risk when not installed and/or secured correctly, which is why following best practices – like implementing a firewall – should be part of the process.
Allows new ways to collaborate. Whether shifting to a remote or hybrid work environment, or responding to shifts in the growing season, technology plays a significant role in how the modern workforce effectively collaborates. Technology that is adaptable can make all the difference for businesses that are heavily rooted in production as part of the supply chain, which means these teams can benefit from external guidance on the tools available for better collaboration among teams that aren't in the same building.
Streamlines operations. Companies that have departments that work in a silo often have problems communicating problems and solutions. Using technology to integrate between teams, such as business operations, human resources, or finance can mean improved alignment. This means bringing IT into the conversation to implement technology appropriately can help achieve more cohesion. The teamwork can result in the realization of operational goals starting with identifying potential technical issues, the realization of long-standing problems, and the implementation of technology that can better meet demand and streamline processes along the way.
Latitude 36 Foods CFO Dale Cox once said, "The tough thing about network security is you don't know what you don't know." But implementing strategies is necessary to help keep the organization safe and production moving, which is critical to the success of the business.
Using technology to strengthen innovation for the organization is a cornerstone to how companies like Latitude 36 Foods operates, bringing crucial elements of the business together through technological advances.
ZAG Technical Services is an award-winning IT consulting firm specializing in network infrastructure, security, disaster recovery, virtualization, cloud computing services, and remote access. ZAG enables clients to succeed with digital transformation solutions by delivering even greater value through IT assessments, consulting, managed services, and support.