In this next installment of our Day In The Life series, we'd like to introduce you to Shirin, our Food Technologist and one of the most integral members of our lean and mean Product Development squad.
She's on the front lines of making sure we're consistently creating new, fresh, and exciting flavor profiles for the hundreds of new products we make each year, and she wants to tell a couple of things to every candidate looking to join our team.
First and foremost, you can't be afraid of work at Latitude 36 Foods.
Shirin is presented with a fresh set of challenges each day, and the truth is it's demanding. From ideation to sourcing, to part set-ups, to pre-production, to sample collection, to the rest of the technical stuff, she needs to be ready for anything that might test her juggling abilities, because it's all for the customer.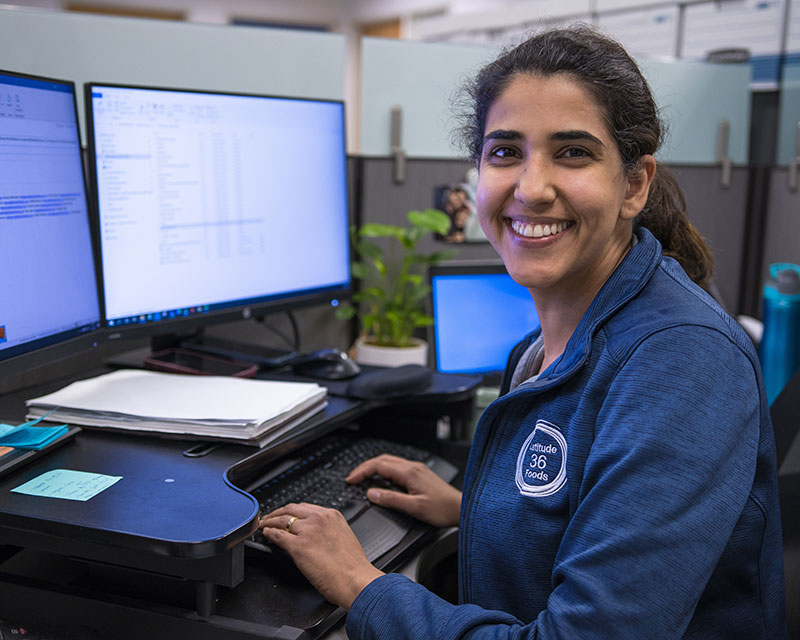 That ties directly into her second point, that Product Development is one of the most customer-facing departments at Latitude, and the customer is always right.
Shirin works directly with them and our suppliers to make sure we keep our promise of turnkey solutions on the cutting-edge of flavor. That's the crux of her role— to be an active part of new ideas in food while managing customer relationships.
To work in Product Development here is to walk a tightrope, balancing our capabilities with what the customer wants. That means dealing with new recipes, collaborating with departments like QA and Production Planning to run new products on the line, and bending over backwards to make sure we exceed expectations every time.
So how does she deal with the constant influx of new challenges? To her, the team she works with isn't just the answer, it's her competitive advantage.
No matter how high the customer says to jump, Shirin can always turn to a member of the squad to have her back. Being in Product Development means getting things done no matter what, and each team member knows that. She can turn almost anywhere for help, and no challenge is too great for us to take on together.
There's never a dull moment in Product Development, and each day is filled with new ideas, new tests, and new business. Shirin is an active contributor to our growth and builds our reputation daily, and to be a part of that makes it all worth it.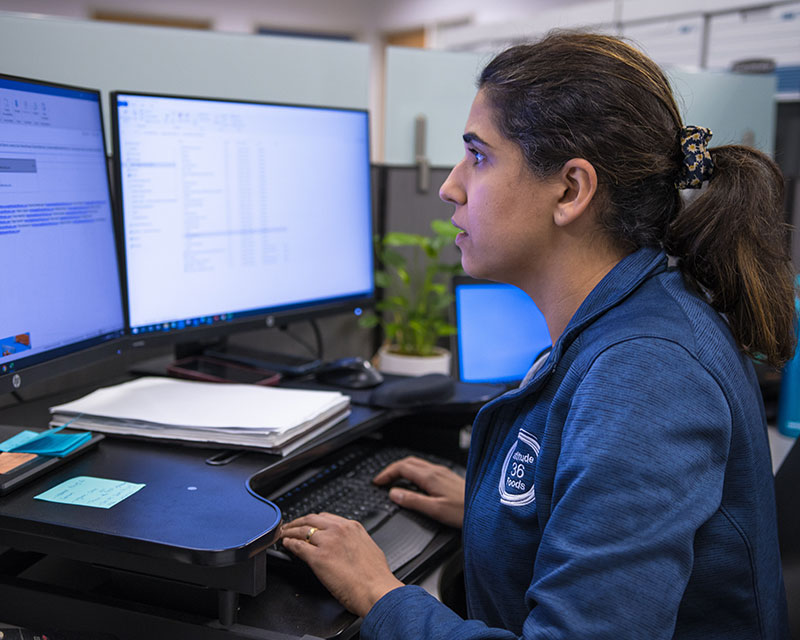 Lastly, when she sees a new item she worked on hit the shelves that consumers love, she wants you to know she feels immense pride in her work. She knows she's responsible for a delicious moment in people's lives, which makes the acrobatics of satisfying our customers less challenging, and more exciting.
If this sounds like something you want to be a part of, we want to talk to you. Our team is looking for a Product Development Tech, someone who is willing to learn and grow with us, and who's willing to take ownership of the latest in modern food solutions. Head over to our recruiting portal latitude36foods.com/ourteam and submit your application if you want to come see just what you're capable of.