When you're a rising star like us, people often wonder what else you've got in your toolbox. Very rarely are people satisfied by one-trick-ponies, which is why we want to take the time this week and let you know just how much we seek to defy that label.
Sure, we've made a name for ourselves in masterpacking, or taking salad condiments and overwrapping them into a convenient package that goes inside your chopped salad kit, but the Latitude spirit extends so much further than just one thing. We want to be known for not just our core, but how well we can expand outside of it, AND continue to excel.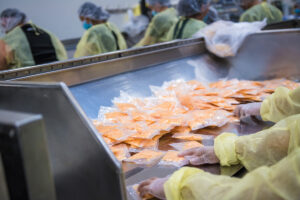 We have two weapons in our war against this complacency, and their names are cheese and bacon.
These staples of deliciousness just so happen to be what we do best. We package both these ingredients in house, and the best part is they have so many extensions outside salad, especially when portion packed.
Take to-go restaurants for example. Traditionally, establishments often pack these items for to-go meals in condiment serving cups. Portion packs, on the other hand, control food waste, reduce labor costs, and ensure the consumer gets fresh and flavorful condiments.
Instead of storing, packaging, and serving them in separate steps, portion packed cheese and bacon takes these and condenses them into one motion. Simply take a stored package and throw it in the to-go bag, confident that the consumer gets the right amount of product without overserving in the process.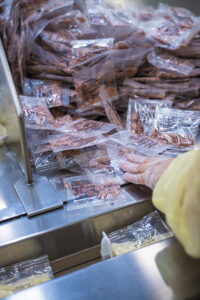 That's what we do. Our portion packs add flavor in a perfect ratio. That means besides being your resident salad flavor providers, we are agents of adding value.
And the truth is in today's world when consumers want what they want now, not later, to-go restaurants can't afford to lose out on the little things like condiments. Even the smallest things impact the bottom line, which is why we're experts at sweating the small stuff.
However, being small doesn't mean losing out on flavor, which is the beauty of portion packed condiments. Not only do they provide a litany of technical food solutions, but they also come packed with ingredients that make your food more interesting.
Consumers will never stop trying to make the food they eat taste better, which is why we're in this business, because we believe one doesn't have to sacrifice flavor profile to save on time and labor.
When you think about just how often we top food with condiments, the possibilities are not only endless, but also exciting. That's why when you think of not just salad condiments, but also delicious condiments in general, we have the answers to problems just waiting to be solved.
That's why Latitude 36 Foods isn't just your resident masterpacker, we're your cheese and bacon people too.
If you want to learn more about how we can help to-go and quick-service restaurants, head to our website or check us out on social media to learn more about how we stand at the ready to fulfill your portion packaging needs!